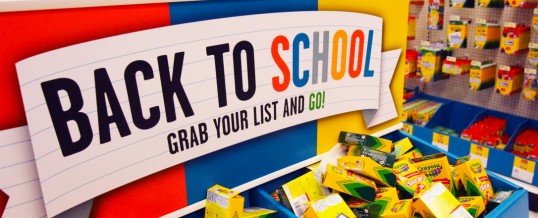 While you may think it's too early for "back to school" talk – the school year just ended, right? For everyone in the retail world, this is the time of year to gear up autumn sales and promotions.
If you haven't already secured your customers' back to school signage, you should be grabbing those orders now!
Let SignCenter help you win these orders by offering more than just fabulous looking wholesale prints and graphic solutions. We also offer kitting and fulfillment!
There are a huge variety of retail graphic opportunities. Banners, wall signage, clings, hanging signs, window graphics, and posters. These are just several of the items that can be printed.
It is ideal to order as many print pieces as possible from the same printer as this will guarantee color accuracy and consistency in print quality from item to item.
More importantly, your customer's branding will be consistent from store to store. Fortunately, if you're one of our print resellers, this is a non-issue because we print everything that was listed and more!
For print resellers and brokers, knowing what materials to specify and how to use them is critical for a successful retail graphic campaign. In many cases, there could be cost-effective new media solutions that your customers have not explored.
If you are not sure about the best media for a particular job, please contact us. Our customer service representatives are very experienced in this market and are here to help.
There are many options for installing graphics in retail environments.  For specific hardware, we recommend FFR Total Retail Solutions. Most retail graphics can be easily installed by store employees, but please note that there are some that will require professional installation. We've noted them below.
Here are a few popular media choices for some common retail graphics:
Window Graphics:
Double-sided polypropylene, with adhesive
Static Cling Clear or White, no adhesive
Super Cling, low tack adhesive
Perforated film that allows vision through the graphics; professional installation suggested
Floor Graphics:
Dye-sublimated carpet, floor mats
G-Floor no adhesive: easily installed and removed. With adhesive; professional installation suggested
Adhesive Vinyl: easy to install and remove, professional installation suggested
Posters:
Cardstock
Styrene
Photogloss/Lustre Paper; easily self-installed and removed in various frame styles
Polypropylene: tear-resistant synthetic block out media – double-sided printable
Shelf Talkers or Danglers:
Diecut card stock or styrene attaches in shelf slots or with removable adhesive
Hanging Graphics:
Display Headers:
Wall Signage:
Floor Displays:
Corrugated Cardboard (white face or kraft)
SignCenter has hundreds of media choices.  Our wholesale printing consultants will work with you to make sure your customers have the right solutions to keep their brands looking their best. If you are not an existing customer, it is easy to get started. Fill out our reseller application and get access to a powerful wholesale resource to grow your business today!