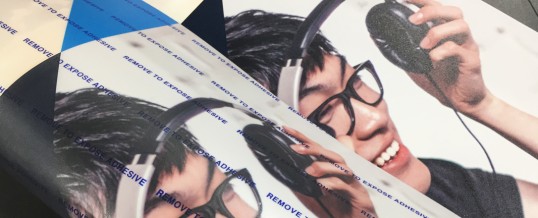 We covered a lot of information in our last post on popular window graphics. Today we are going to discuss an option for windows that is exclusive to SignCenter. To clarify, the substrate itself is not unique to us, but what we do with it is pretty spectacular. So much so that any time someone asks our CSR Debbie about it, she gets happy and responds, "Oh, I love polypropylene!"
Polypropylene
Polypropylene is a synthetic medium that is a digital print favorite due to its many fantastic inherent qualities. It is an excellent substrate for single or double-sided printing. Produced with a light blocking center layer, double-sided graphics will not show through to the other side.
Polypropylene is strong. It is water and tear resistant, and SignCenter stocks rolls up to 60" wide. This material can be die cut so it is perfect for creative designs. Due to the high white point of polypropylene, colors are rich and vibrant, and the graphics look awesome on it! The polypropylene has a natural matte finish, but it can also be laminated to create a gloss finish.
So how does this work for window graphics?
SignCenter combines the printed polypropylene with a special high tack / low tack, air release, film adhesive. The high tack side bonds permanently to the printed surface.  When it is time to install on-site, the liner on the low tack side is removed and the graphic is applied to the glass.  Special air release channels in the adhesive enable a perfect, bubble free installation even by untrained installers. This process transforms the polypropylene into a removable second surface window graphic!
One thing to note, these window graphics must be installed dry. If applied with water, a cloudy film can form between the graphic and the glass. Be sure to clean the glass well before applying!
Most of the polypropylene window graphics SignCenter prints are for retail graphics for seasonal advertisements or quarterly promotions, but we also produce them frequently for use at theaters and event venues to display their schedules of performances and events.
What can you envision your customers using them for?
Feel free to contact SignCenter to discuss this and any other window graphics options. We know Debbie will be excited to answer any questions!