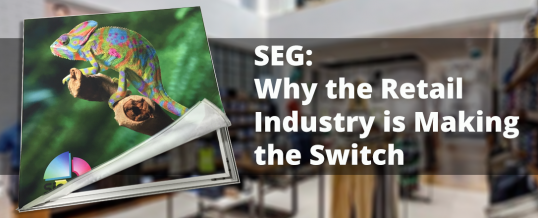 Many major retail chains have made the transition from backlit films and paper based substrates to SEG signage. SEG stands for silicone edge graphics. These are dye-sublimated fabric graphics with a silicone strip stitched around the edges. They are used in combination with frames that have a recessed channel to receive the silicone edge and pull the fabric taught.
SEG is not new to the print world. For several years now, the Out-of-Home industry has been implementing these graphics in airports, and the tradeshow industry has been utilizing them for backdrops and lightweight booths.
Fabric has many great qualities which make it the perfect solution for retail graphics:
Attractive Prints- crisp images and vibrant colors
Wrinkle Resistant- also doesn't dent
Lightweight- easier for transporting and set up
Backlit alternative- graphics look gorgeous
Low-glare- perfect backdrops for photos
Quick change graphics- easy to install and remove
The cost savings on shipping and ease of set up for employees make SEG signage a profitable investment for retail companies. These reasons are why premium chains such as Nike, The Gap, Aldo, Cole Haan and Apple have already made the switch. As is usual with retail, it won't be long until others follow suit.
SignCenter has been producing gorgeous wholesale dye-sub prints for many years and is happy to offer our print resellers demos, education and training on SEG so you can feel comfortable talking to your retail customers about making the switch.