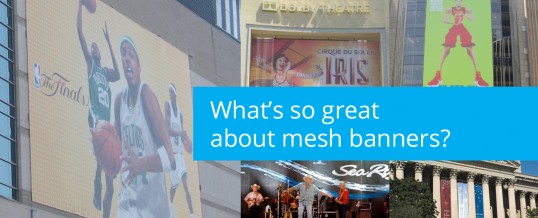 Mesh banners are a fantastic alternative to traditional vinyl banners for many outdoor applications, especially when used on fences or in open areas. Mesh banners are vinyl banners constructed with an open weave. The tiny holes allow for air, light and sound to easily pass through. Just like any vinyl banner, mesh banners support high resolution UV printing. Outdoor mesh banners not only look excellent, but they hold up in the elements too!
Why mesh banners?
Mesh banners are great in so many ways, but from a practical point of view, the main reasons to use mesh come down to reasons of appearance and safety. Mesh banners are specifically made for outdoor use. Since the wind can pass through the banner it causes less wear and tear to the banner keeping it looking its best longer. For added strength, mesh banner hems are often reinforced with nylon webbing. The most common wind or airflow for mesh banners is 30%, however SignCenter's wholesale mesh banners offer a 37% airflow. The airflow eliminates the need for wind slits even if the banner is being hung over the street and reduces the risk that the banner will turn into a sail and knock over supporting structures in high winds.
Which applications are mesh banners recommended for?
Any outdoor application is a candidate for mesh banners, however SignCenter recommends using them specifically for fences, scaffolding and open spaces. Mesh banners provide the ability to hang graphics in windows that also need to let sunlight in. Another great application is at concerts venues. Mesh banners graphics can be hung in front of speakers without affecting the sound quality.
Mesh banners are commonly used for:
Crowd control barriers
Scaffolding
Fence wrapping (parks, construction sites, ball fields, etc.)
Over the street banners
Large outdoor banners
Windows
Concert venues
Are there size limitations to mesh banners?
Not really. You can go big and bold with mesh banners. The mesh vinyl can be welded for extra length and because it is less material, the banner will weigh less than its full vinyl counterpart.
Special Instructions
Just like with any other banner being hung outdoors, please check with the city or town to make sure the banner will meet the city's engineering requirements. For instance, some towns require a higher wind flow percentage for building banners. (Our stocked media is not sufficient for this, but we can order other styles.) SignCenter will produce the banner to the specifications needed, but we need to be provided with specs at the quoting stage.
Looking for Wholesale Mesh Banners?
SignCenter has you covered. If you are not already a print reseller with us you can sign up here, or contact a customer service rep and they will be happy to assist you.