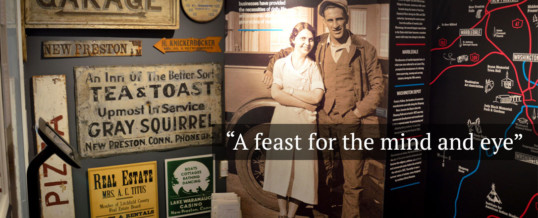 Imagine capturing the entire history of a small Connecticut town, dating back to the Native Americans, and extending through the 20th century. The town of Washington is a collection of five iconic villages in Litchfield County where Native Americans have lived for the last 10,000 years. Now on display at the Gunn Historical Museum, Washington Connecticut – An American Story is an exceptional long-term exhibit that gives an overview of the rich history of Washington, with artifacts from the Native Americans through the 20th century.
SignCenter had the pleasure of working on this project to execute the vision of the Gunn Museum's curator Stephen Bartkus, and their client, designers Julia Nable and Zoltan Csillag of SandorMax, the creative services firm tasked with the design of this exhibit. This collaborative community undertaking touches on major turning points in Washington's history, giving visitors an understanding of the unique people, places and events that have shaped this quintessential American town.
Including over 1,000 artifacts and graphic reproductions on display, the exhibit provided variety as well as an interactive visitor experience. By partnering with SignCenter, they were able to deploy cutting edge techniques and materials such as the printing and die cutting of large acrylic graphics, printing on metal, and printing of large wallpaper murals to name a few. Because this will be a ten-year exhibit, materials such as UltraBoard provided a highly durable medium to ensure longevity. As many of the fragile artifacts such as paper and textiles could not be displayed long-term, the design team looked to SignCenter for inventive printing techniques to capture the essence of the artifacts and create a lively, multimedia experience for visitors.
The local Republican American newspaper's writer Tracey O'Shaughnessy called the new exhibit "as sophisticated and exceptional an exhibit as you will see in any local history museum in this state." And William Hosley, former Curator of the Wadsworth Atheneum and former Director of the New Haven Museum called it "Object rich, thoughtfully thematic – a feast for the mind and eye. It is the kind of performance that museums 10x the size struggle to pull off. It is magnificent!"
In the exhibit you will find a life-size acrylic of George Washington, appearing more like glass from the side and attached with standoffs to give it dimension. We direct printed the piece on half-inch acrylic using our Vutek GS3250, and then cut it and finished the edges on the Zund G3 M-2500.
Behind almost all of the graphics in the exhibit is SignCenter's wallpaper, used to display large photos or artwork. Not to be missed is the digitally scanned reproduction of a large painting of Native Americans by a local artist.  Along the stairway is wallpaper featuring a life size image of the Averill family, residents of Washington dating back to the 18th century. Both were printed on Dreamscape Nolar wallpaper with the  Vutek GS2000 UV printer.
Wallpaper was also used to wrap the inside of the large flood diorama. We used our Zund G3 M-2500 to cut the acrylics and direct print white ink from the Anapurna FB2540i printer to feature the flood levels. Consistency of color was critical for the entire exhibit. With the custom color profiles that we made for our printers, we were able to produce the correct color on many different white points of media.
Because many of the fragile artifacts were paper and textiles that could not be displayed long-term, real life replicas were created. Using durable 3/16″ white-faced black core UltraBoard, prints that were printed on SignCenter's Vutek GS2000 UV printer then had a matte laminate added on the face with an AGL laminator. The matte laminate was used to protect the prints as well as to minimize glare coming off the prints in the museum. The boards were die cut into their specific shapes, then sanded for smooth edges. Installation included attachments with standoffs to add dimension.
When asked about his collaboration with SignCenter, Stephen Bartkus, Curator of the Gunn Historical Museum said, "Working with SignCenter was a pleasure. They created high quality products for our exhibit within a short time frame, and met our tight deadlines. SignCenter is professional, creative and capable of printing on a variety of materials that greatly enhanced the quality of our exhibit."
 Zoltan Csillag, Principal and Creative Director at SandorMax said "The team at SignCenter went above and beyond to ensure the success of this exhibit. From sharing cutting edge techniques in exhibit printing technology to quick turnaround time and outstanding quality and reliability, we found the ideal partner for this and future projects."
SignCenter is a full service provider of wholesale large format and specialty graphics.  For more information about SignCenter's exhibit and display services, please contact Rob Fletcher at (800) 269-2130.