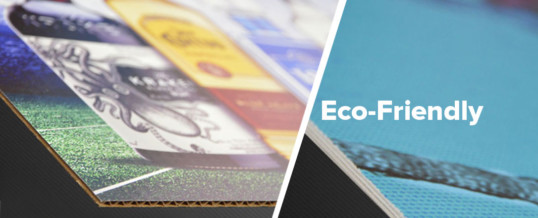 Last week we talked about the importance of environmental responsibility and the rising pressure from today's eco-conscious consumers for businesses to commit to using environmentally sustainable strategies.
Environmentally friendly point-of-purchase displays are virtually identical to traditional ones in that they offer the opportunity to showcase the features and benefits of a product to customers. While the choice of environmentally friendly materials is crucial, a key factor in creating an eco-friendly display is in the type of process that is used for production.
For example, boards with PVC overlaminates cannot be recycled. However direct printing UV ink on FSC boards using a durable waterproof ink that does not require an overlaminate allows boards to be placed in regular recycling.
Reduction of energy is another sustainable strategy. SignCenter's UV printers all use LED cure technology that require less than 1/3 the electrical power as older mercury-containing UV arc lamps.
Eliminating waste in the manufacturing process is key to our environmentally friendly POP display production process. SignCenter works with designers to optimize the size of their designs to match the size of the boards, as well as with suppliers to order sheets specific for the output size, thereby eliminating waste. We also have a range of printers up to 10' wide that gives us the flexibility to accommodate various sizes efficiently.
As part of our overall commitment to conduct business in an environmentally friendly manner, SignCenter continues to offer eco friendly, innovative and sustainable products and services to our customers. Bring us your creative challenges and we'll recommend green materials that are right for the job.