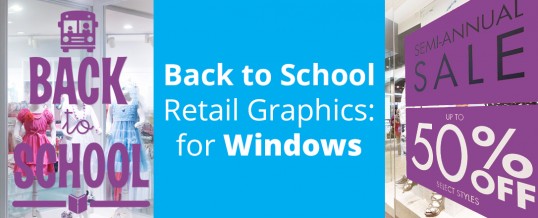 There are many different options available for graphics and in the fast-changing world of fashion, we wanted to make sure that our print resellers know what options SignCenter has available for quick and easy installation and removal for media. In our last post, we went over a slew of available substrates for "Back to School" prints. Today we are going to focus on window graphics in particular, and the options you can source from wholesale print providers.
Back to school graphics, like most seasonal campaigns are temporary graphics. To save money and time, it is ideal that store employees are able to install and remove these materials without professional help.
Let's look at the three most popular substrates for temporary window graphics.
Static Clings
Static cling materials are the simplest to apply. These can be installed and repositioned by anyone and do not leave any residue when removed. Static Clings are available in clear or transparent white. They are meant for indoor use only, but they can be used as first or second surface prints. Like all window graphics, static clings can also be die cut, giving designers more creative opportunities to express their message.
Super Clings
The next option for easy to install and remove window graphics are what we refer to as "super clings." These films have a low-tack adhesive, giving them greater durability and making them ideal for high traffic areas, like the inside of doors. Super clings are available in clear or transparent white. These prints can be used for indoor or outdoor display. Clear super clings can be used as first or second surface prints, but white is for first surface applications only. Super clings can also be die cut.
Polypropylene
The third option is polypropylene, a flexible, tear resistant, synthetic media. This is a very popular option because polypropylene window graphics are so versatile. They may require a little more skill for installation, but do not require a professional by any means. Removal may require a mild cleaner to remove any residual adhesive, but relatively speaking, clean-up is a breeze. Polypropylene window graphics have a light blocking layer, so they are perfect for single or double-sided printing. They can have a matte or gloss finish and the substrate can also be die cut.
Remember to remind your customers that starting with a clean surface will help with installation and provide the best results.
SignCenter has many other options for wholesale window prints whether they are for Back to School graphics or any other campaigns. If you have questions about any window media, you can find more information on our blogs or give us a call!