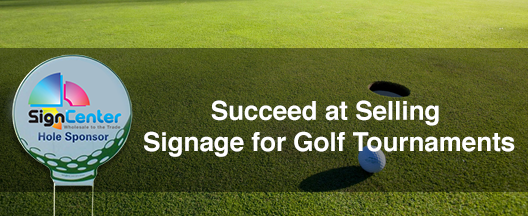 Charity golf tournaments have become a popular fundraising mechanism throughout the United States.  In fact, there are over 1,000,000 golf events annually. Signage is a key part of a charity event's success. Most importantly it is used to recognize sponsors, but there are also a lot of directional and informational graphics that are employed. Organizing a tournament is a stressful job, and being a successful signage partner involves relieving as much of that pressure as possible with dedicated and professional support. If you have a reliable wholesale partner, you can concentrate on customer service, design, and handling last minute requests and changes.
Finding the tournament organizers is as easy as reaching out in your local Chamber of Commerce, Rotary, or Kiwanis organization. Resellers have also had success in making connections in the sales office of their local golf courses.
Remember, planning for a typical charity tournament begins 5 – 6 months before the event. So make your contacts early. One fantastic part of this business is the annual nature. If you come through as a reliable supplier, you will likely see the tournament work every year!
As a print reseller, there are several ways you can assist your customers to make sure their print collateral is produced seamlessly (a.k.a. timely and accurately). Saving customers time, money and extra work will secure your position as their go-to printer. Below is some useful advice that will help you sell printing to charity golf tournaments.
First, meet with your clients to discuss the types of printing that will be produced. Remember that the end user may not be aware of the various options for printing. Educate them on the products that are available and remind them that each item can be used as a source for funding. Some of the most popular print options for Golf Tournaments are:
Tee Sponsors Signs (can be custom die cut!)
Pin Flags
Temporary Cart Decals / Vehicle Magnets
Banners
Sponsor Boards
Informational and Directional Signage
Presentation Checks
Fabric Flags
Cart Path graphics
Once you know which items will be produced, set a schedule for your customers outlining important deadlines. These should include dates to secure sponsorship, collect logos from sponsors, proofread and edit artwork and have print ready files in the printer's hands. SignCenter's regular production time is 3 days, but Rush Service is always available for last minute additions.
Remind your customers that when it comes time to gather their sponsors' logos it is important to consider print parameters. The logo should be CMYK and in vector format for best output. High resolution images of the logo are also acceptable, but should be at least 300 dpi at the size being printed. Grabbing a logo off the internet will most likely not work as most images found online are set for screen resolution (72d dpi) and RGB.
It is critical to build time in the schedule for proofreading and edits. No sponsor likes to have their name spelled incorrectly or to be listed under the wrong sponsor level. Reminding your customer to take the time to look everything over will avoid embarrassment for all parties. We also recommend printing some extra blank tee signs that can be filled in with a marker for very last minute added sponsors.
Let your customer and their designer know that you can provide print templates which will save them money. Tee sponsor signs are the perfect example: by providing the designer with a print template, he or she can set the individual graphics for each sign on one board. This is considered the same as ordering 18 signs of one print versus 18 individual signs.
There are many other ways you can become invaluable as a print provider. SignCenter is ready to help you succeed selling signage for golf tournaments or any events. Contact us with any questions as we are always happy to share our knowledge.