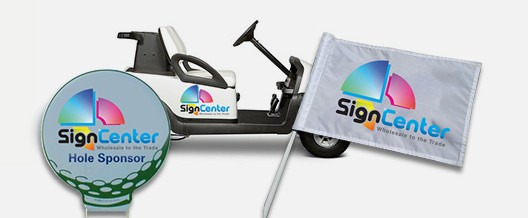 Spring is finally blooming and for many golf courses and charities that means it is golf tournament season!  Charity golf tournaments raise money primarily by selling sponsorships, and those sponsors are thanked and recognized with SIGNAGE!  For SignCenter print affiliates and resellers that means it is time to talk to your customers about tournament graphics.
Consider the types of golf tournament signage that you can sell to your customers. Practically any surface can become an opportunity for graphics. Here are a few common choices, but don't forget to think outside the box. SignCenter has many wholesale print solutions and offerings which will increase the charities' branding opportunities and better yet, increase their sponsorship revenue.
Tee Sponsors
Typically corrugated plastic signs up to 24" x 36", these signs are placed around the tee box on thin metal stakes.  They can be die cut into standard or custom shapes and printed single or double sided.
Pin Flags
Pin flags can be used for additional advertising space or used for branding the event. These affordable dye-sub flags add a little more color to the event. The typical size for pin flags is 19″ x 13″.
Temporary Cart Decals/ Vehicle Magnets
That's right vehicle graphics for golf carts! Temporary cart decals can be printed using low adhesive cling media or magnets. These can be used for informational signage or sponsorship opportunities.
Banners
Sponsor banners can be hung throughout the event to advertise the charity and its sponsors. SignCenter produces wholesale vinyl banners of any length – printing up to 124″ wide. For extremely windy courses, request mesh banners that allow air to flow through the print.
Sponsor Boards
Printed Sponsor boards are a fantastic way to highlight and thank the golf tournament sponsors. They can be placed on easels in banquet rooms and at check-in tables.  With several choices to produce sponsor boards, SignCenter can work with a variety of budgets.
Informational and Directional Signage
Directional signage provides countless opportunities to brand or advertise. Consider signs pointing the way to Registration, golf carts, refreshments, facilities, award ceremony etc.
Presentation Checks
Your customers can go big by awarding over sized checks to the tournament winner(s). Presentation checks are often printed on adhesive vinyl then mounted to foam board, but are not limited to this option.
Fabric Flags
Dye-sublimated flags are easily placed around the venue on ground stakes, these vibrant graphics are available up to 14' tall and durable enough to use year after year.
Let us know if you have any other ideas or requests. SignCenter would love to help you find a creative wholesale print solution.
**For the most generous sponsors, ask for pricing on special presentation prints of graphics mounted in display frames.