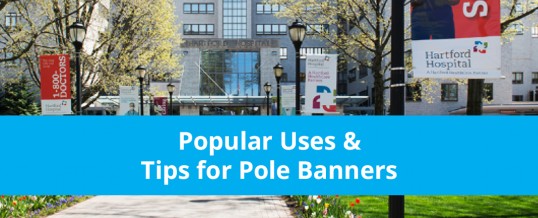 Pole banners aka boulevard banners are a favorite form of advertising for towns and cities, campuses, business complexes, etc. They are attractive, durable and versatile. The banners are excellent for street beautification, branding and promotion for tourism, events, and more.
The city of Hartford, CT did a campaign around their city using the then new tag line "Hartford Has It" paired with imagery to represent a range of city activities. "Hartford Has It — Fun," "Hartford Has It — Music," "Hartford Has It — Food," and "Hartford Has It — Style." The banners were used to inspire residents to take pride in their city and to remind visitors of the many fun and educational places there are in the city including museums, restaurants and cultural events.
The City of Portland, CT lines their Main Street with pole banners. In previous years, the banners had a simple line drawing design with the name of the town on a burgundy colored background. The banners were alternated with hanging flower pots giving the already charming town an even more welcoming and quaint feel.
Hartford Hospital uses boulevard banners for branding and education on their campus. They remind visitors of the specialized care and advanced technology and services offered by the hospital. The banners use a mix of images, colors and words that represent the hospital's branding.
SignCenter prints and sews pole banners for every occasion. We put together a quick list of things to take into consideration before ordering pole banners (or any banners for that matter):
How long will they be up for? The longer the banner is expected to be outdoors, the more durable the banner should be. Pole banners are subjected to all of the elements and strong winds can rip through them, so even though you can use the following guidelines, think of the weather and time of year for where these will be installed.
Short term use = 13 oz. banner
Long term use = 18 oz. banner
What type of hardware is being used for installation? There are many different types of hardware available. Look at the hardware before ordering so we can accommodate any particular needs during finishing. The last thing you want is a call from your installer telling you that the banners don't fit properly. If you have a choice in selecting the hardware, we recommend using the poles which are attached to springs. This allows the banner to move, shedding the wind load and enabling a longer useful life.
Standard construction for pole banners is one pocket sewn into the top and one sewn into the bottom with a grommet on the top corner (so the banner can be zip-tied to the pole.) If you need the grommet at the bottom, or two grommets or anything "extra," please tell us when you ask for a quote.
Calculating Pole Pockets: To calculate the size of your pole pockets, take the radius of your pole and multiply it by 3.25 and round up to the nearest inch. You can use our pole pocket calculator here.
Design Safe Area: Avoid placing any critical text one inch below and above the pockets and from the sides. This will be where we sew in the hems. Take into consideration that any design elements in this area will be sewn through with colored thread.
Typography: Same as with any banner, keep in mind that these will be seen from a distance, therefore it is important to use easy-to-read fonts and definitely test font size for legibility.
More tips on designing banners.
Pro-Tips for Installation Success
Pro-tip 1:  Many installers use zip ties to secure pole banners. Not all zip ties are created equal. Always use ties that are sold specifically for outdoor use. The wrong zip tie can degrade in the UV light from the sun and your banner will go flying!
Pro-tip 2:  To ensure a perfect fit take a piece of ribbon and loop it around the top and bottom poles and staple it back to itself. Send this with your order so that the vertical height can be adjusted as necessary.
Pro-tip 3:  Many banner poles have decorative finials at their ends. Some of these are permanently attached.  When specifying your pole pocket size, be sure that it will fit over these features.
Our Customer Service Reps are here to help! Feel free to reach out if you would like to learn more or to place an order for wholesale pole banners.