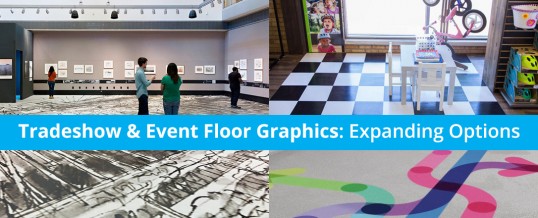 Up to $150 per square foot of floor space is what tradeshow exhibitors will spend to get their message in front of customers. That's the same amount that it costs to build an average home in America! At that price it seems surprising that nearly a third of the messaging space on a typical tradeshow booth is wasted: the floor. Fortunately, there are great new options for that lowly but valuable surface.
Floor graphics are an area that have seen vast improvements in the past decade. The number of viable options has dramatically increased. Not only are there a multitude of print substrates available, but there are also several print processes to consider. To provide customers with these varied solutions, it is often profitable for exhibit manufacturers to work with a wholesale printer. Remember to do your due diligence when selecting a wholesale printer.
Temporary options for floor graphics include:
UV Printed G-floor (Great alternative to renting basic carpet at a trade show or matching the floor to your exhibit regardless of location. Multiuse.)
Single piece up to 10' x 50'
Multiple textures
Two thicknesses
Lays flat
May be die cut
Optional non-skid backer
Latex or Solvent Printed Decals (Perfect solution to apply logos, text and images etc. These are the most affordable solution for temporary use. One time use.)
Non-skid smooth or textured laminate surface
Die cut
Up to 59" wide in one piece – tile for larger area
Removable adhesive
UV Printed Decals (Hype up any event to passersby with outside graphics. Logos, arrows, footsteps, images, etc. can all be enticing. One time use.)
Textured adhesive media
Suitable for exterior use
Will stick to asphalt or concrete
Die cut
Up to 48" wide x any length
Dye-sublimated Rebound Carpet (Another great alternative to basic tradeshow carpet. Multiuse.)
Soft polyester face
Non-skid back
60" wide x any length
Vibrant color
Lays flat
Permanent options for floor graphics include:
Dye-sublimated ceramic tiles from 2" x 2" up to 12" x 12" (Consider for long term exhibits, businesses and retail branding.)
UV printed G-Floor (Same as above but can be installed as a permanent flooring solution longer use.)
SignCenter can produce any of these materials in our 24,000 sq. ft. facility in Milford, CT in 3 days or less. Display and exhibit manufacturers can instantly gain access to more solutions by becoming a reseller with us.