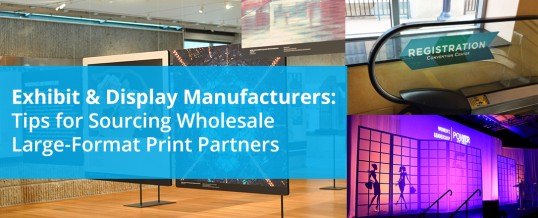 The cost of attending trade shows continues to rise and customers are demanding more value and "pop" from their investment in booths and displays. At the same time museums, retail interiors and galleries want increasingly sophisticated and quality exhibits. Exhibit and Display Manufacturers gain a competitive edge partnering with wholesale large-format print providers.
Sourcing high quality wholesale graphics from a dedicated trade printer is an ideal way to enhance the reputation of a trade show and exhibit manufacturer without the huge capital expense investment in printing and finishing equipment; or needing to maintain a well-trained and paid staff to run an in-house graphics department.
A good wholesale large-format and specialty print house will be a partner for creative graphic solutions, fast turn-around or large quantities and exacting color and quality specifications. They will have multiple ink technologies, substrate options and a reputation in the industry for excellent customer service, reliable delivery and high quality.
Things to consider when looking to partner with a wholesale provider:
Substrates: Look for a wholesale print provider who stocks a large variety of substrates. You want to be sure that they can supply your prints in a timely manner and not waste valuable time sourcing your media. Do they offer direct printing on glass, mirror, acrylic and more? For best results, look for a wholesale provider who can offer rigid, soft and specialty substrates.
Inks: Certain exhibits will require different print processes. Depending on the location and style of the exhibit, Aqueous, UV, Latex or Dye-sublimated printing, (to name a few), may be more desirable. Also look for printers that offer more than CMYK. Additional colors such as white, gray, light magenta, etc will help your designs look amazing with colors that really pop.
Color accuracy: Can they hit your colors? The last thing you need is for your outsourced printing to look different from the rest of your exhibit. Make sure to ask your print providers about Pantone matching.
Quality: One sure thing to look for is whether or not they have any certifications or warranties such as the 3M Warranty. 3M and other reputable programs will not back a printer who does not reach or exceed their high standards.
Timeliness: Make sure they can handle your quantities and deliver on time. It could be disastrous to need a back-up plan for your back up. Look at the size and capacity of their establishment to determine if they fit your requirements.
Reviews: What do their existing customers say about them? Read their reviews and or ask for references. Do they deliver on time, offer quality print products, stand by their work? These are all questions that will help you determine if the wholesale printer is as good as they claim to be.
Of course, SignCenter is an excellent print partner for the trade show and the exhibit industry. We offer all of the above and deliver museum quality prints on time– every time. Becoming a reseller with SignCenter will keep your design and production team working efficiently and delivering the fabulous custom displays your customers are anticipating.