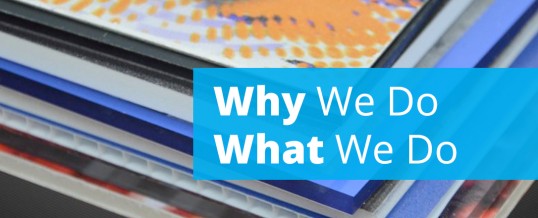 You know those moments when someone says just the right thing and it puts everything into proper perspective? Well, we had one of those moments last week. A longtime customer was in and was discussing how important SignCenter is to him as a trade partner. He said, "I wish I knew about you guys years ago, before I invested in all of that equipment and lost my shirt."
"I invested in all of that equipment and lost my shirt." THIS!
This one statement sums up why SignCenter exists as a wholesale large-format printer. As the former owners of a storefront sign and design shop, we recognized the need for a reliable wholesale source for materials that are beyond the day-to-day capabilities of many businesses in the printing and sign trade. This recognition was the driving force behind the start of SignCenter, but we didn't stop there.
SignCenter is more than large-format printing. Think of SignCenter as your silent partner, complementing your existing team. We are heavily invested in seeing our customers grow, and we achieve this by offering three things:  education, diligent customer service and exceptional print services.
Every shop is going to get requests for products that they don't have the equipment to produce in-house, and no one is wanting to invest half a million dollars in a printer that they will use a couple times a year. Alternatively, the options are to send these customers down the street to a competitor (and potentially lose their business completely), or work with a wholesale printer. Working with SignCenter means that you never have to say "no" to your valuable customers ever again.
SignCenter has the experience and the resources necessary to create new and lucrative opportunities for our customers. Sign shops and other printers can confidently go after high end markets without having to invest in equipment or training. SignCenter is their reliable source for specialty media, various print processes and custom solutions.
It would have been better if we had met our customer before he lost his shirt. That said, we can't help but be proud learning how much of a positive impact we have had on his business. Looking to the bright side of the situation, he has recovered and can now afford to buy an even nicer shirt.
If any of this resonates with you and you would like to grow your print business and go after larger opportunities, fill out our reseller application and let's start talking!