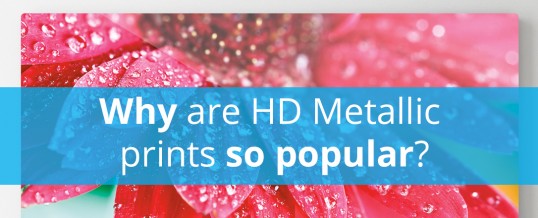 High definition metallic prints have become increasingly popular for exhibits, galleries, home and office décor. They are available with a white base or as a silver base, both producing vibrant colors and stunning image clarity. The metallic silver base adds a dimension or depth to the artwork that cannot be created with ink alone. The shimmer or luminescence added to the print is almost magical.
The prints are made using a dye-sublimation process. The inks are transferred to the metal through heating which infuses them into the aluminum. This process creates a sleek and stylish, permanent, photographic-quality print.
In addition to creating beautiful photographic representations, HD Metallic Prints have other great features including being made from 100% recycled material.
Here's a closer look at some of the benefits of HD Metallic prints:

Print Quality: HD Metallic prints offer outstanding image clarity and vibrancy with exceptional detail and resolution.
Light Weight and Sleek:  A full-sized aluminum print is 96" x 48" and is 0.45" thick and weighs only 20 lbs.
Easy to Display: There are several different display options available for dye-sublimated aluminum prints. Choose from mounts, easels, frames, or even hanging systems.
Long Lasting: HD Aluminum prints are stain & fade resistant and will not yellow with age.
Easy Care: Aluminum prints can be cleaned with ammonia, bleach, acetone, rubbing alcohol, glass, and all-purpose cleaners.
Timeless: These slim-line prints are also timeless expressions and will be a stunning addition to any décor.
What do you need to know before selling HD Aluminum Prints?
Just the basics.
Ask your customers where they will be installed, desired sizes and quantities. You should review mounting options with your customers as well. Also, know that SignCenter produces wholesale HD Aluminum prints in a variety of sizes up to 96" x 48".
Aluminum prints are ideal in the following locations: (or in essence, anywhere)
Hospital Environments
Museum Graphics
Office / Lobby Graphics
Out of Home Graphics
Retail Displays
Restaurant Graphics
As always, you can contact SignCenter to learn more about these or any of the dye-sublimated rigid board prints.  Our Customer Service Representatives are here to answer any questions and make recommendations on best practices. Not a print reseller with SignCenter yet? What are you waiting for?
Sign up today and gain access to hundreds of wholesale print solutions!