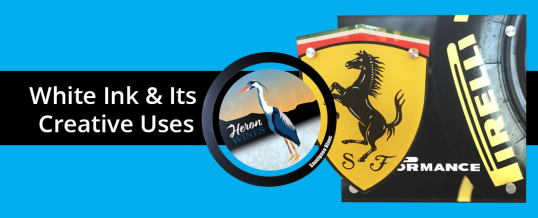 Digital printers have traditionally used some version of a CMYK ink set to reproduce colors (some use additional CMYK Light colors for greater subtlety of tone, or chromatic green, orange or red for increased vibrancy).
These color sets are perfect for printing on white media, but what if your media was clear, black or colored? It would be impossible to correctly render the colors, and what if a design required white ink on these substrates?
Fortunately, UV curable digital white ink has matured as a technology. It was a difficult technical problem to solve: white ink pigments must be heavy enough to produce opaque coverage, but not clog ink systems and sensitive print heads. Even with sophisticated recirculating ink systems, printers equipped with white ink channels require regular and consistent operation. SignCenter prints 100's of thousands of square feet of white ink a year on our OCE and Vutek Printers. Many of the creative options are listed below.
Basic Uses:
White Use white ink on colored or clear substrates for text or graphics.
White, Color Use a layer of white ink between the colors and the clear or colored substrate to ensure that the process colors will be vibrant.
Color, White, Color (also referred to as Day/Night) Use in backlit applications to ensure colors are accurate and vibrant when front lit or backlit.
More Creative Uses:
Varying Transparencies White Use white ink at varying transparencies to create fun design effects or create the appearance frosted or etched glass.
Varying Transparencies White, Color Use white ink at varying transparencies under the color layer to make some images and copy pop more than others; also creates fun gradients.
How do you use white ink? If you haven't used it or are looking at some of the more creative uses, and would like to discuss your options, just reach out to one of our CSRs. They are more than happy to explore the world of white ink with you. We also have a handy guide for preparing files for white ink here and on our resellers site.