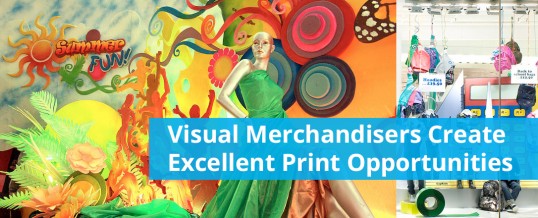 Whether you are a seasoned print broker or just breaking into the world of retail graphics, make sure you are prepared to deliver the exacting requirements of visual merchandisers.
Using both interior and exterior visual displays, visual merchandisers plan the entire layout and flow of a store. They strategically place graphics, signage, and POS displays.
All surfaces are considered: window graphics to lure consumers in, wall signs and floor graphics to gently guide them through the store and counter displays at the registers.
Thanks to the endless creativity of these visual merchandisers, retailers create many print opportunities for the print industry.
Knowing that these creatives can be pretty innovative in their designs, it is advantageous for print brokers, print resellers and sign companies to team up with a trade only printer such as SignCenter. This will ensure that the print work can stay "in-house" and not go to a competitor.
How Can SignCenter Help with Retail Graphics?
SignCenter is a trade only printer, offering the highest quality print options at wholesale prices. We produce the graphics, signage and POP displays used in most retail environments and our high definition prints are being used by the most distinguished brands.
SignCenter has attractive print options for varying budgets from the single location grocer to a chain of clothing stores, and everything in between.  For example: Whether your client has existing wire racks or is looking to install new displays, we have options for you.
We can produce replacement graphics, kit and ship them, or we can print and install the graphics to the displays and ship. The latter option makes it easier on the end user. They can install the display simply by removing it from the box and adding the merchandise.
What are some popular displays & media options?

Window Graphics: Clings or Adhesive Vinyl (clear or white)
Floor Graphics: Adhesive Vinyl, G-Floor or Dye-sub Carpet
Hanging Graphics: Showcard or Styrene
Shelf Headers: PVC, Styrene, Ultraboard
Shelf Danglers: Showcard or Styrene
Countertop Displays: Corrugated Cardboard (white face or kraft)
Floor Displays: Corrugated Cardboard (white face or kraft)
Merchandise Bins: Corrugated Cardboard (white face or kraft)
Wire Racks Display: PVC, Showcard, Styrene
Wall Signs:  Showcard, Paper, Aluminum, Acrylic, SEG, Omegabond
Endcap Displays: PVC, Styrene, Ultraboard
When choosing a print substrate, consider how long the graphics will be on display to determine how durable the media should be. If you are questioning which media will work best, ask your SignCenter customer service representative. We have decades of experience selling and producing retail graphics.
As wholesale printers, we believe it is our job to assist our print resellers in delivering the best substrates and print processes.  Contact us today to learn more.