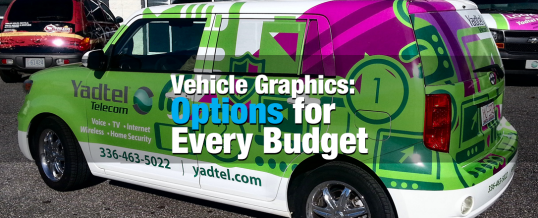 Vehicles have been used for promotion since their inception. They have come a long way from the days of hand painted signs, but the concept is still the same: vehicle graphics allow businesses to maximize their advertising dollars. Whether the vehicle is parked or driving, it is promoting the company and racking up valuable impressions. From an organization with one car to a larger company with a fleet of trucks, there are options for every budget.
To meet the needs of smaller budgets, consider cut vinyl lettering and logos. Use a combination of different stock colored vinyl for variety, or for a little more money have printed vinyl installed. These graphics work great for company name, phone numbers, website addresses and slogans.
Another versatile option for smaller budgets is vehicle magnets. These can be printed in full color and can be easily removed or switched out for seasonal messaging.
Decals or spot graphics are printed and die cut. These full color vehicle graphics are great for doors and hoods. They enable full color prints for logos or images and when combined with cut vinyl lettering give a polished look.
A partial wrap is similar to spot graphics except it usually covers a larger area. For example, a van could have three quarters of its sides wrapped. Partial wraps are a fantastic way to incorporate full color images and text and are more durable than decals or spot graphics.
Full wraps cover the entire vehicle. While they are considerably more expensive than decals, wraps offer considerably more surface area for branding and creativity. Full wraps are more durable than other vehicle graphics and offer additional protection to the paint against scratches and chips.
If you are worried about the windows interrupting your design, consider using window perf. Window perf is a special adhesive material that has tiny holes (perforation) that enable the driver to see without breaking up the design.
Whatever the need, SignCenter has our print affiliates covered with our offerings for wholesale vehicle graphics. Our customers are always welcome to stop by our Milford office for a demo of materials.