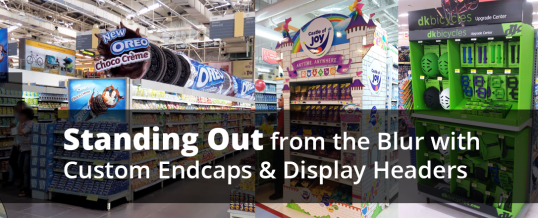 When you go into a grocery store and look at any aisle, before your eyes focus on the hundreds of products on the shelves, you see a whirlwind of colors and shapes. It can almost be overwhelming to find the products you are looking for. Knowing this, brands rely on custom retail graphics to assist their products in standing out from the blur.
Two popular choices to attract customers are custom endcap displays and display header graphics. These graphics can be as straightforward as a rectangular sign that affixes to the top of the endcap or as complex as a full-size display that completely transforms the look of the endcap. The graphics can also be something in between such as custom display boxes to sit on the shelves.
Having creative designs for these displays is important. The graphics are often ordered by the products' manufacturer, POP/POS display companies, or ad agencies. These graphics are viewed up close so it is critical to ensure images and graphics are created at high resolutions. Just as significant as impeccable design is making sure the graphics are produced on durable and great looking substrates.
SignCenter offers several media options for printing fun and vibrant displays. Depending on location, design and the need for durability, our resellers often order display graphics on 3mil PVC, Ultraboard, 50pt Showcard or 18pt for shelf strips, or Kemiboard.
To determine durability, think of how long these graphics will be on display. If it is a weekend display, showcard or kemiboard may be great solutions. If it will be up mid to long-term, consider PVC. If you think it will be touched a lot, regardless of substrate, (think kids with sticky fingers), consider adding a lamination for added protection.
Although we do make recommendations based on tried and true experiences for producing retail graphics, SignCenter is also known for assisting designers and resellers in prototyping and trying new materials for these displays. We enjoy these projects and are always up for tackling creative challenges.