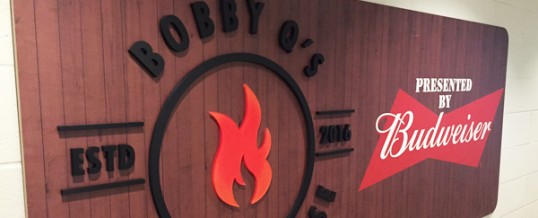 UV cure printing technology opened up a whole world of new options for printable substrates – the challenge, however, is finding materials that are inherently flat enough to allow for high quality output without risking damage to the printer. Fortunately, SignCenter has done that!
Wood has always been a favorite material for designers to work with, but it is wildly unstable, easily warps and comes with dust and splinters as well.   Fortunately there is now a product on the market that solves these issues. Our plywood supplier now stocks sheets of 1/4″ and 3/4″ material that is manufactured with an MDF (medium density fiberboard) core and real wood faces. The MDF keeps the board dimensionally very stable and prevents warping.
When designing for printing on wood it is possible to achieve beautiful effects by allowing the wood color and grain to show through our cmyk inks which will appear translucent.   It is also possible to selectively under or over print white ink. Once printed we can die cut the 1/4″ material into any shape.
Potential applications include interior signage (this is not an exterior grade product), wall panels, tradeshow and museum displays, menus, and POS/ POP displays.
Please contact your customer service representative for a sample.