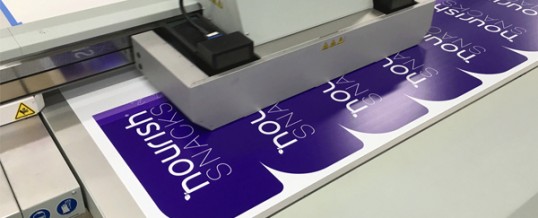 Here at SignCenter we are asked on a regular basis if we can print onto materials that our customers supply. It's not an unreasonable request, and even though we stock over 100 different media, there are some specialty products that we don't have in our warehouse. Many of our customers know that the state-of-the-art printers that we operate have the capability to output some pretty unique products. For example, it's not very often that we utilize the ability to print on materials that are two inches thick.
Unfortunately, we don't print on supplied media for four important reasons.
It is dangerous to our equipment – our inkjet printers use expensive, precision print heads that travel a mere ½ millimeter above the print surface at very high speeds. Any material that is not perfectly flat can cause a damaging head strike.  On a printer that has 21 printheads, each of which cost over $5000 to replace, that damage would be catastrophic. SignCenter purchases our raw materials on pallets and stores the sheets flat in a temperature and humidity controlled environment.
Printing profiles need to be written for all media – Most materials require us to write a custom profile to ensure that colors are reproduced properly, the ink dries smoothly and the printer can be operated at the most efficient speed. It can take hours to create each profile, a time consuming and expensive process as it requires time on the printer to accomplish.
We can't guarantee results – While it might seem easy setting ink down, there are many chemical compatibilities that are necessary to ensure good ink adhesion and durability. These are not necessarily obvious during the initial output. We are often asked to print on materials like High Pressure Laminates like Formica®. These surfaces are purposely engineered to not have things (like ink) stick to them. Our standard media offerings have been extensively tested by the printer and media manufacturers to ensure compatibility.
We want to stay friends with our customers – We value our relationships with our customers, many of whom we have been working with for more than a decade. In the digital printing process things go wrong more often than you might imagine. Rip files can have processing problems, print heads can get clogged, ink runs out, power fails, prints get trimmed wrong or dropped, laminates get a spec of dust underneath and a hundred other possibilities.   If we are printing on an expensive media that you supplied, you are going to be mighty upset to have to replace it due to something that happened in our process.   When we supply the media, those costs are built into what we charge, and we will replace the material as necessary to ensure that we ship a quality print.  Asking a customer to replace material due to issues that happen in the regular course of production is not good for our long-term relationships!
What can we do?  Well, if there is a large opportunity we can work with you to develop a new product line where we purchase the raw materials working directly with the vendor to ensure the quality meets our standards.    For other projects we can often suggest an alternative process using mounted prints or die cut decals.  SignCenter is dedicated to your success.   When we decline to print on supplied materials, it is because we have the experience to know that the odds of success are not ideal!