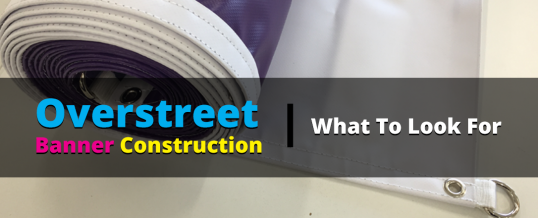 Today we are going to discuss overstreet banners. As the name suggest, overstreet banners are the long, usually double sided, banners that are temporarily installed over roads and pedestrian thoroughfares. They are widely used to publicize events, foster community engagement and celebrate holidays. A lot more goes into these banners than just a creative design and large size. Most towns and municipalities have strict specifications for the fabrication and installation of these banners as well and it is important to find out what these are before you hire a print company to produce your banner.
This week we had another example of someone who went to an online printer, and although the design and colors looked great, the banner was rejected by the town for its flimsy construction. The banner was made on a thin vinyl with wind slits. The edges were heat welded and the grommets were inserted through the folded edge without reinforcing.  The town knew that this construction could be a recipe for disaster. The grommets can easily tear out of the vinyl and if it were to fall, a banner this large could cause a major accident.
After the town rejected the banner we received a panicked phone call. "Can we salvage this banner?" The answer, fortunately was, "Yes." Unfortunately, it was at an additional (un-recouped) expense to the print broker. We took the customer in last minute, and were able to accommodate her schedule. We trimmed off the welded edge with the grommets and created a new double-lock stitched hem reinforced with nylon webbing. In addition, we added D-rings to the nylon webbing. This is an added safeguard for installation. The D-rings are secured directly to the poles and prevent the banner from falling if the attachment cords were to break.
So, how do you avoid ending up in this situation?
Know the town's codes and specification on over the street banners
What weight of scrim vinyl is required? Typically this is an 18 – 21oz blockout material
How should the banner be reinforced? 1" high strength nylon webbing is common, but some areas require additional gussets in the corners.
What size grommets are needed for attachment? Either 3/8" or ½" diameter are common.
In some cases, the banners must be produced with wire cable in the hem for stretching between the support poles. Always confirm the overall length.
Discuss the construction with the company producing it.
Some printers will sew two banners back to back to create a double-sided banner, instead of printing on both sides of a single sheet. If wind slits are cut on a banner like this, it becomes a giant pillow in the wind, stressing the hems and attachment points.
Contact SignCenter. We produce hundreds of overstreet banners, and will automatically ask you questions regarding the town's specifications for construction.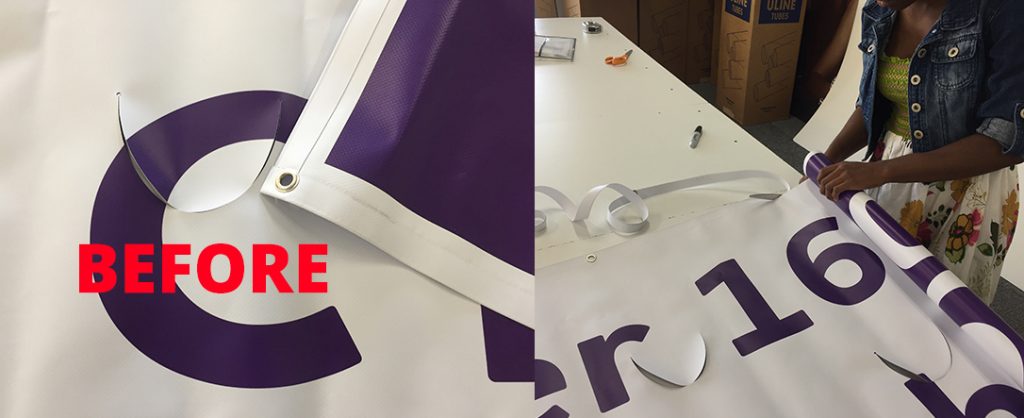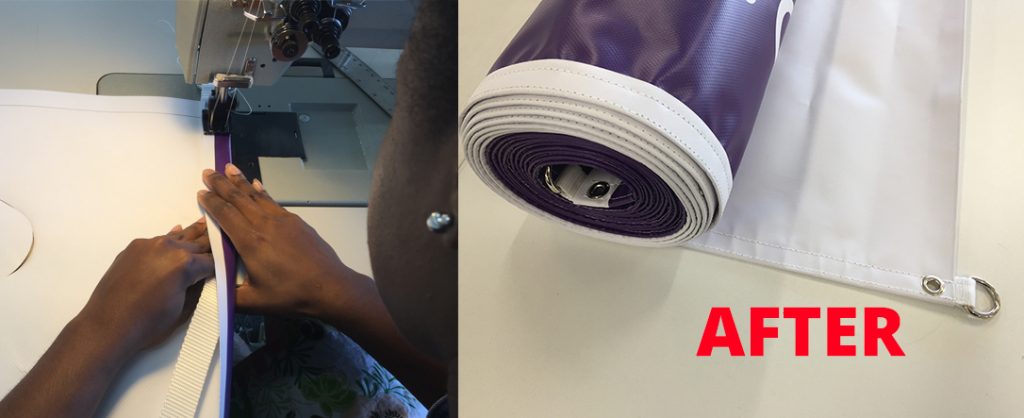 If you are not an existing customer, it is easy to get started. Just fill out our Reseller Application. Once approved you will have instant access to our exclusive Reseller Portal, all of our quality large-format printing and knowledgeable staff.