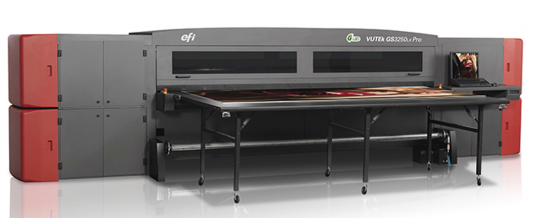 SignCenter is pleased to introduce our latest state of the art UV Cure printing capabilities in the form of a 126 inch wide hybrid Vutek printer.
Utilizing unique LED curing technology, the GS3250LX consumes 82% less energy than our older mercury vapor lamp equipped printer and extends the range of thin plastic media that can now be UV printed.
This printer also more than doubles SignCenter's production capacity, with the ability to print 28 4′ x 8′ boards per hour with exceptional quality, and 75 4′ x 8′ boards per hour for less demanding applications.
Using 9 colors of ink, including white, the color reproduction is phenomenal and extremely durable.
You can read more about the technical details of this amazing technology here. Please schedule an appointment to see our new Vutek in action.