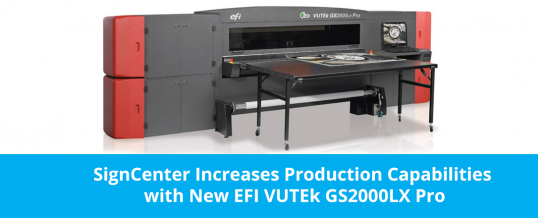 SignCenter Increases Production Capabilities with New EFI VUTEk GS2000LX Pro
Milford, Conn., USA September 5, 2017– SignCenter upgrades their shop with a new two-meter, LED, eight-color plus white printer.
Today's print buyers are imaginative, savvy and demand green solutions. They create designs that push the limits of imagination and the limits of print capabilities. In order to answer these demands, printer manufacturers are consistently advancing print technology with regards to capabilities, energy efficiency and greener printing. In turn, print companies need to upgrade their equipment to stay competitive. When it came time to upgrade their existing two-meter printer, SignCenter, a wholesale to the trade digital printer, headquartered in Milford, Conn, decided to purchase the EFI VUTEk GS2000LX Pro.
The GS2000LX Pro offers LED technology for a greater range of supported substrates and greener printing. The new EFI has eight-color plus unique multi-layer white print capability and true grayscale technology. With resolutions of true 600 dpi or true 1000 dpi, the GS2000LX Pro not only satisfies customer requests for a greener print solution, it also delivers stunning graphics. "This printer fits the needs of our customers and the trends we are seeing in the print industry. We have been offering white ink technology since its inception, and the ability to print white on a wider range of substrates is necessary to meet the demands of our high-end retail and Out-of-Home clients," explains Michael Oliveras, president and CEO of SignCenter.
SignCenter explored other printer options, but ultimately went with the GS2000LX Pro. The decision was partly due to their positive experience with their 3-meter Vutek GS3250LX Pro, but mainly because of the GS2000LX Pro's proven track record of being a work horse. "SignCenter needed another printer that could operate continuous shifts and has 24-hour production capabilities without sacrificing quality," says Oliveras. According to EFI, the printer was specifically designed for banners, day / night backlits, exhibition graphics, indoor signage, photographic reproductions, point-of-purchase graphics and posters. Oliveras confirmed, "these print applications are the majority of our customers' applications." The new printer uses the same inks and profiles as SignCenter's GS3250LXPRO which will enable some of their jobs to be printed simultaneously on both printers for even faster turnaround times.
Another selling point for the EFI VUTEk is its eligibility for the 3M MCS Warranty program. SignCenter has certified its staff and as many of its printers as possible with the 3M MCS Warranty. "It isn't necessary, but it is an added safe guard for our customers," says Oliveras, "they know just by seeing the 3M MCS logo that they are guaranteed to receive quality print products."
###
SignCenter is a privately owned and operated wholesale printing business with production facilities in Milford, CT and sales offices in Milford and Boston, MA. Offering wholesale large-format and specialty printing products and services, SignCenter creates new and profitable opportunities for its print affiliates to grow their print businesses without additional capital or personnel.