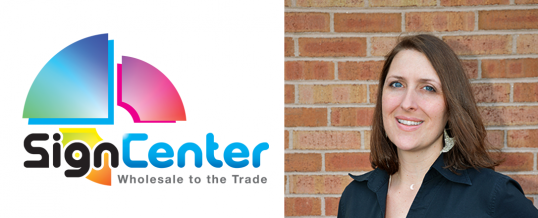 SignCenter is pleased to announce that Jessica (Jes) Grant has joined our team as our Marketing Manager.
In her new role, in addition to marketing SignCenter, Jes will be further developing our reseller resources by creating a new reseller portal, providing access to more marketing collateral, and in general making it easier for our customers to do business with us. She will be taking a hands-on approach with customers and wants to know what you think and what we can do to better serve you. She looks forward to connecting with all of you.
About Jes Grant
Jes is a creative marketing professional with more than 15 years of practical marketing, sales, and design experience. For over five years, Jes was the Marketing Services Manager for a full-service printing and graphics company in Hartford, CT. She was responsible for marketing and advertising strategy, content, design, implementation and management for the corporation and its divisions. Her areas of expertise include content marketing, SEO, SEM, website design and strategy, and PR.
Community service is important to Jessica. She has previously run a yearly food drive at work; she is a certified ESOL tutor and has tutored with Literacy Volunteers of Central Connecticut for about 5 years; and she is a former board member and ongoing volunteer for Artists for World Peace, headquartered in Middletown, CT.
In addition to her work at SignCenter, Jes freelances as a graphic designer and artist. She enjoys spending time with family and friends, and her hobbies include up-cycling wooden pallets to useable products, traveling, and listening to live music.