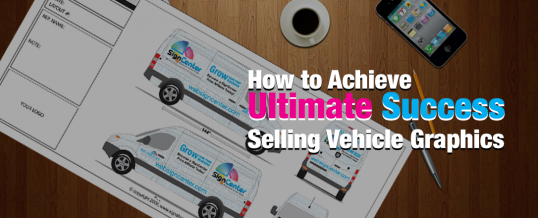 Know your options. There are many options when it comes to vehicle graphics: cut vinyl lettering, decals, wraps, window perf, etc. Familiarize yourself with the options so you can comfortably discuss them and offer solutions that fit within your customer's budgets.  Not every vehicle graphic installation needs to be a full wrap.  Partial wraps can be a budget friendly option for your customers.
Build a network of designers or study the process yourself. Make sure your designers (always good to have more than one) actually understand how to design for large format graphics. Also look for someone with experience with vehicle wraps. Working with a designer who knows to avoid placing text on door handles, seams or protrusions is something that will save you and your customer time, money and aggravation.
Subscribe to a template provider. There are several choices out there, do a little homework to determine which companies offer the most up to date templates. Two well known providers are The Bad Wrap and Pro Vehicle Outlines. Even though you are using a template, take some physical measurements and pictures of the vehicle. Vehicle length and window options vary (especially with vans and Sprinters) and sometimes the vehicle names do not indicate the extra length. Hoods are often missing from templates or are not accurate because they are drawn at an angle. Rear windows vary on models and it is a good idea to get actual dims. Templates are usually 1/20th scale.   Keep this in mind when using raster images.  A 100 dpi image at 1/20th scale will only be 5dpi at print size!   Also, be sure to add at least 4" of bleed to all sides of your art file (about ¼" at scale).
Use a quality wholesale printer. This should go without saying. You want the graphics that you are selling to look great and last. Your printer should provide crisp imaging and vibrant colors. Check to make sure your wholesale printer is using high performance 3M products and offer warranties on their prints. (As with other wholesale printing, you are in good hands with SignCenter.)
Build a network of installers. This is probably the most important. Even the most amazing looking graphics will fall short if they are not installed properly. Before you consider using an installer, ask if they are trained to install 3M products so you do not void your warranty. Look at their portfolio. Things to look for: are the graphics straight? Do the panels match up or does the graphic get lost in the seams? Are there bubbles or wrinkles? How well are the corners wrapped? If everything looks good then you are most likely dealing with an experienced installer.  Another thing to consider is where are they doing the installs. Do they install inside in a temperature controlled environment or is it done outside? Installing graphics outside is doable, but inside is preferable. If they are performing installations outside, they are not reliable for year-round installs. If you want to learn how to install yourself there are many hands-on class options available. For instance,  www.geekwrapsu.com, is a 3M authorized training company.  You may also find training opportunities at regional and national industry tradeshows.
Create a portfolio. Start your own digital portfolio of vehicles graphics to send to your prospects. Seeing is believing and showing experience will be the fastest way to land an account.
SignCenter wants your business to succeed. Please reach out with any questions, we are happy to assist however we can.