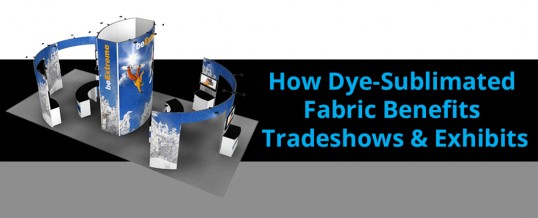 Jes here. I am the Marketing Manager at SignCenter. I wanted to share some thoughts on dye-sublimated graphics for tradeshow booths. As someone who travelled to international tradeshows in the early 2000's and was frequently responsible for set up and breakdown of trade show booths, I cannot stress enough how jealous I am that we did not have full color dye-sublimated fabric booths then. I see how far the print technologies have come with fabric and how they have literally changed the shape of booth design. There are many benefits to using dye-sublimated graphics in tradeshow exhibits, not only are the booths easier to transport, set up and breakdown, but they also look phenomenal.
Dye-sublimated fabrics have a color density like no other printed panels. The colors are infused into the fabric, creating crisp and vibrant graphics that are extremely versatile. Fabric can be used in tension frames to create back drops or walls, used in pop ups, as tablecloths, hanging tension displays, banners, it can even be used as a design element, for instance, it can be used to create a colorful flowing canopy entrance to a booth. Dye-sublimated fabrics look great as is or can be enhanced further with back lighting.
The lightweight and wrinkle resistant nature of the fabric makes transporting these graphics a breeze. Let's consider a 10' x 10' booth. It is approximately 31 pounds for a fabric pop up versus 93 pounds for a 10' x 10' pop up with a rollable substrate. Now let's consider a larger space, a 20' x 40' booth is a pretty substantial size, but as a fabric booth the weight stays comparatively low at only 220 lbs. The shipping costs saved on a fabric booth alone make it a winner.
Set up of fabric booths tends to be fairly easy. The fabric is most often attached to the framing system with either velcro, zippers or silicone edging. Any of the three options are effortless and efficient to use. Unlike the rollable polycarbonate graphics that attach with magnets or velcro, there is no hassle trying to match up the seams and hanging them straight. Even with the benefit of height on my side, this was never easy. During set up, gosh forbid anyone accidentally dings a pane– it puts a permanent dent in the graphics and it can't be smoothed out with a little steam.
Any way you look at it dye-sublimated fabric options for tradeshow booths and exhibits are something we should all be embracing. Full color tablecloths used to be too expensive for the average business to invest in, but that is no longer the case. As the price point continues to come down, what other ways can you think to incorporate fabrics into your exhibits?