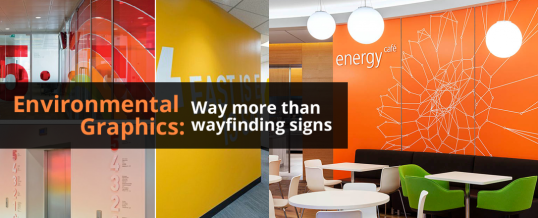 There is so much creativity in the world and here at SignCenter, we have the luxury of seeing some of the best imaginations at play when we print and produce environmental graphics.
Environmental graphics, also known as environmental design graphics, as described by the Society for Experiential Graphic Design (SEGD), "embraces many design disciplines including graphic, architectural, interior, landscape, and industrial design, all concerned with the visual aspects of wayfinding, communicating identity and information, and shaping the idea of creating experiences that connect people to place."
Environmental graphics encompass every type of signage available. From floor graphics to ceiling graphics and everything in between, designers and architects have evolved basic wayfinding signs into inventive systems that enrich their environments in various ways. Environmental graphics are broken up into 3 distinct arenas: Signage & Wayfinding, Interpretation and Placemaking.
Signage & Wayfinding programs communicate site navigation. These signs will often incorporate a theme or branding, however their main purpose is to direct visitors throughout a facility. These signs can range from tactile ADA signs to digital directories.
Interpretation tells a story or a theme. Interpretive environments typically refer to exhibits. Graphics that convey historical information, such as a timeline, or perhaps a donor recognition wall would fall under this category.
Placemaking is more about connection than information. Placemaking designs are used mostly for branding or as a way to embellish architecture or spaces. Examples of placemaking would include interior graphics such as corporate lobby graphics, or exterior signs such as boulevard banners used for street beautification.
Digital printing has played a major role in the evolution of environmental graphics with the development of new print media for almost every surface application. Signs and designs can be digitally printed for walls whether concrete or plaster, floors whether tile or wood, doors whether glass or metal, etc. Some interesting environmental graphics can be found here or SEGD has a quick and informative look at environmental graphics through the ages.
SignCenter offers a multitude of print solutions for environmental graphics. High quality is our guiding principle, and we satisfy even the most discerning customers. This is one reason why we are our print resellers' number one partner for corporate graphics and museum and gallery exhibits.