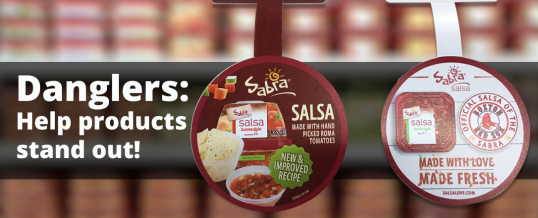 Shelf danglers are an excellent way to catch a shopper's eye. These colorful attention getters are extremely versatile. They come in many shapes and sizes, can be die cut to any creative design and they can be easily installed to various retail shelving systems. Even their name is fun, danglers aka, wobblers or talkers!
We see a lot of great shelf danglers come off of our printers– really, with these little guys the sky's the limit when it comes to design! SignCenter commonly produces them on styrene and showcard, but have many available substrates to choose from.
Some advice when creating and ordering shelf dangler's:
Before you start your design be sure to check with the retail establishments they will be going in. Verify their shelving systems, and find out if they have limitations on size etc.
If you are ordering a double-sided dangler, you will want to avoid the 02 styrene as the printing will show through to the other side. We suggest an 03 or even an 06 styrene for double-sided shelf danglers.
Laminating your dangler can strictly be an aesthetic decision or consider it to add an extra layer of protection to your design. (Especially since these are placed in high traffic areas.)
If you will also be ordering shelf strips and or aisle violators, consider placing the order simultaneously. Not only will this ensure color consistency and quality, but SignCenter can kit, package and blind ship your orders to the individual locations, which just makes your life easier.
Our standard turnaround time is within 3 days, but for larger quantities, you should discuss due dates with your CSR.
Here are some fun examples found online: