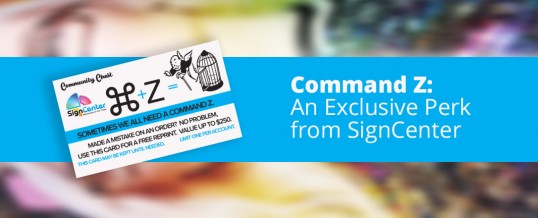 Everyone who has visited SignCenter's production facility in Milford remarks at the substantial investments we have made in equipment. From our perspective, however, the investment is not in printers and laminators, but in our customers' success.
Our goal is to make our resellers wildly successful selling our prints, and we do our best to make that happen through customer service support, media and process education, sales samples, and diligent quality control. Unfortunately, sometimes our print brokers and resellers make errors on their end. Since we don't want to profit on their mistakes, we came up with the Command Z Card.
What is the Command Z Card?
"Command + Z" is the undo key combination on a Mac computer. While we can't undo the error entirely, we can help. If our resellers ever need to reprint files due to their own error, they can trade in the Command Z card for a one-time credit of up to $250. This exclusive perk has no expiration date but is limited to one use per account.
We recently mailed out postcards with the Command Z cards, so please let us know if you didn't receive yours. We will gladly drop another one in the mail, or better yet, stop in and pick one up so we can show off our new equipment and capabilities. You are going to love the new dye-sublimation offerings!
Become a Reseller
If you are not already a SignCenter print reseller, you can become one by filling out our Reseller Application. The process is simple, provide your contact information and your resale certificate number and we can get you processed. Once approved, you have instant access to 24,000 sq.ft. of print technologies and new products to offer your customers.