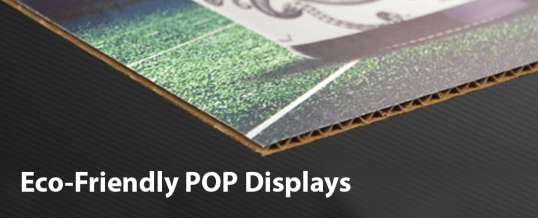 Creating eco-friendly Point-of-Purchase displays demonstrates environmental responsibility and offers a competitive advantage for both display manufacturers, printers and their customers. Rising pressure from today's eco-conscious consumers is driving businesses to commit to environmental sustainability strategies.
Environmentally friendly displays are virtually identical to traditional ones in that they offer the opportunity to showcase their products to customers. The key difference lies in the choice of materials that are used to construct the piece. Traditional displays contain materials that can take hundreds of years to break down, while manufacturers of green displays rely on natural or recycled resources.
Options for environmentally friendly materials include recycled or recyclable materials such as CorogreenTM that is made of 100% recycled polypropylene. The entire board can be recycled again. FalconboardTM is another brand that is a sustainable replacement for petro-chemical based foam boards. And FSC (Forest Stewardship Council) Certified materials which are responsibly sourced and harvested from sustainably managed forests.
As part of our overall commitment to conduct business in an environmentally friendly manner, SignCenter continues to offer eco friendly, innovative and sustainable products and services to our customers. Bring us your creative challenges and we'll recommend green materials that are right for the job.