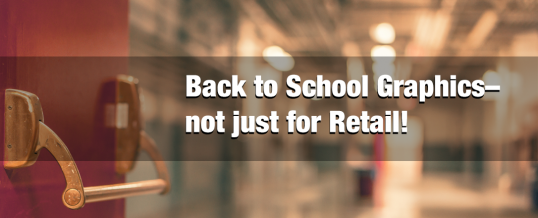 When people in the print industry hear "Back to School," retail graphics advertising sales usually come to mind. It is important to expand that thinking. There are plenty of print opportunities surrounding schools and educational environments outside of retail.
Many educational institutions use graphics to create a sense of pride and camaraderie in their students and to promote learning. Digital printing has made this type of branding more affordable for schools. The days of one color banners have been replaced with full color prints including images and messaging, both inside and outside campus buildings.
Imagine welcoming students and faculty back to school with some quick and easy visual enhancements.
Some common applications for educational graphics are outlined below.
Traditional Banners: Whether indoors or out, banners can be produced to hang on walls, draped from ceilings, or strung pole to pole.
Building Banners: Oversized mesh or vinyl graphics that are attached directly to outside of building.
Flags & Pennants:  Fabric or vinyl can be used to create custom flags and pennants to adorn gymnasiums, hallways or parking lots.
Campus Banners: Outdoor boulevard or pole vinyl banners are a great addition to spruce up any campus.
School Logos: Die Cut Dimensional PVC Logos or Mascots add a polished look to any environment.
Wall Murals: These custom prints are a fantastic way to update the look of any room or hall. Full color and a variety of media options allow for placement on almost any surface.
Floor Graphics: Non-slip floor graphics aren't only for gymnasium floors, think entranceways, lobbies, offices, hallways etc. Can be used for branding or directions.
Window Graphics: Window graphics are another versatile product to spruce up an educational environment. Choose from translucent, opaque and die cut vinyl designs.
Posters: Posters are an affordable method to notify students of upcoming events, important messages or to remind students of the school's motto and mission.
ADA Wayfinding Signs: Let students and visitors know where to find classrooms or offices and mark rooms with names and room numbers.
What other types of large-format print products have you sold to schools? Let us know, SignCenter wants to hear from you.