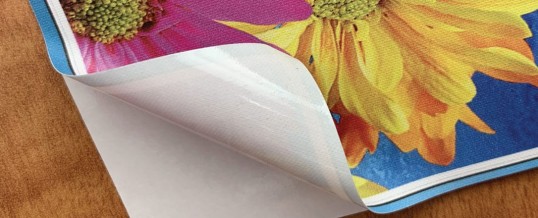 No exhibitor wants to set up at a trade show with last year's booth, but many don't have the budget for a full rebuild.  Here are some cost effective, high impact ideas for a new look using adhesive backed, digitally printed materials:
Refresh, don't replace. Consider using printed graphics on opaque vinyl with block out adhesive to cover existing old trade show graphics on an existing booth.
There have been a lot of developments in printable materials and substrates. Adhesive media can be permanent or removable (even low-tack), and is available in opaque, translucent and optically clear.  Multi-layer printing technologies on the last two can optimize your graphics for stunning back-lit displays.
Need short term branding solutions that can be end user applied? SignCenter recommends adhesive backed fabric which is easy to apply and remove (it's repositionable and unlike vinyl, it doesn't trap air bubbles underneath!).  Use these temporary graphics anywhere (even on vehicles), without worrying about damage to the surface underneath.
Create visual interest using 3M textured overlaminates, or repurpose special color changing, metallic or even carbon fiber 3M vehicle wrap vinyls to achieve eye catching effects.  Combined with overprinting and die cutting options, the creative potential is almost limitless.
Make the most of expensive tradeshow floor space by adding floor graphics! These decals will adhere to carpet and hard surfaces, even asphalt. Each has an ASTM rating for non-slip.
Also, don't forget to address the issue of harsh tradeshow overhead lighting by adding ultra matte or textured polycarbonate overlaminate to prints.
Lookin' good! Whatever your business needs, SignCenter's customer service staff understands the trade show industry, as well as your quality requirements and time constraints. Bring us your creative challenges and we'll find the materials that are right for the job. We'll even keep you up to date on production, and send you photos of your project as it moves through the shop.  You'll get to see how your job is progressing and let us know how you like it – if it's not right, we won't ship it. Once it's finished, we'll pack it in custom boxes to be sure it arrives in perfect condition. Your customer won't know we were part of the process, but we will make you look good and they will be delighted with their stunning trade show materials!