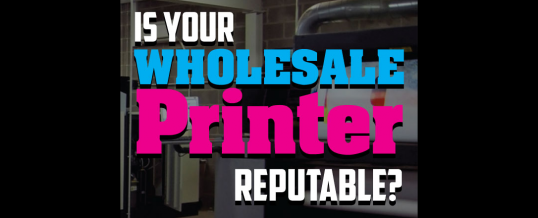 1. Customer Support– Let's face it, there are a lot of items to take into consideration when ordering print: quantity, sizes, substrates, finishing options, etc. Your wholesale print company should be available by phone, email or in person. They should offer you individualized care and ask questions pertaining to your print orders. Taking the time to discuss the jobs before they are produced ensures that you will receive what you intended to order and in turn will keep your customers happy.
2. Excellent Quality– We all want to find the best product for the best price and some printing companies offer incredibly low prices, but often sacrifice quality to achieve this. If the quality is lacking and you need to have the job done several times, are you really saving money in the end? Look for consistency in the print quality to know you are dealing with a reputable wholesale printer.
3. Experienced Production Staff– Does your wholesale printer hire anyone to get the job done or are they selective and only hire trained print technicians? If your prints have vivid and crisp images with vibrant colors and the jobs are done properly, chances are you have a reputable wholesale printer with an experienced print production staff!
4. Investment in the latest technology – Large format printers wear out quickly. Most have a useful life producing top quality prints of only 3 – 6 years. Even with diligent maintenance, printers should be upgraded regularly. Advancements in technology consistently produce better printing equipment which are more energy efficient, create fewer hazardous wastes and output stunningly improved prints. A reputable wholesale printer doesn't just make a sale, they develop a relationship. That relationship should only become more valuable and productive over the years, and like any relationship, there needs to be investment.
5. Never sell direct– If you are competing for jobs with your wholesale print provider, STOP! They are not wholesalers, they are your competition. Wholesale printers are there to help you increase your print business, not steal it away from you.
6. You are a SignCenter Print Affiliate– Congratulations! You have an extremely reputable wholesale printer. SignCenter offers high-quality, competitively priced wholesale large-format and specialty printing products and services and they keep to the SignCenter Pledge:
•  We will never sell direct
•  We will deliver 99% of our orders in 3 days or less
•  We will deliver quality products every time
•  We will maintain the lowest prices possible, while keeping our first 3 pledges